Getting Started
Becoming a teacher means you're earning a professional degree that will prepare you to seek a teaching license. Getting started involves: 
Initial admission and enrollment at University of Northern Iowa  
Formal admission and orientation to UNI Teacher Education 
Whatever your background – high school student, adult learner, transfer student, professional seeking to make a career change – your first step is to apply and enroll. You'll attend the orientation that fits for you, connect with advisors, get registered, and soon find yourselves in class! 
What happens next – and when – will depend on your individual situation. However, most students should be in position to formally apply to teacher education during their first year on campus. 
Path to Teaching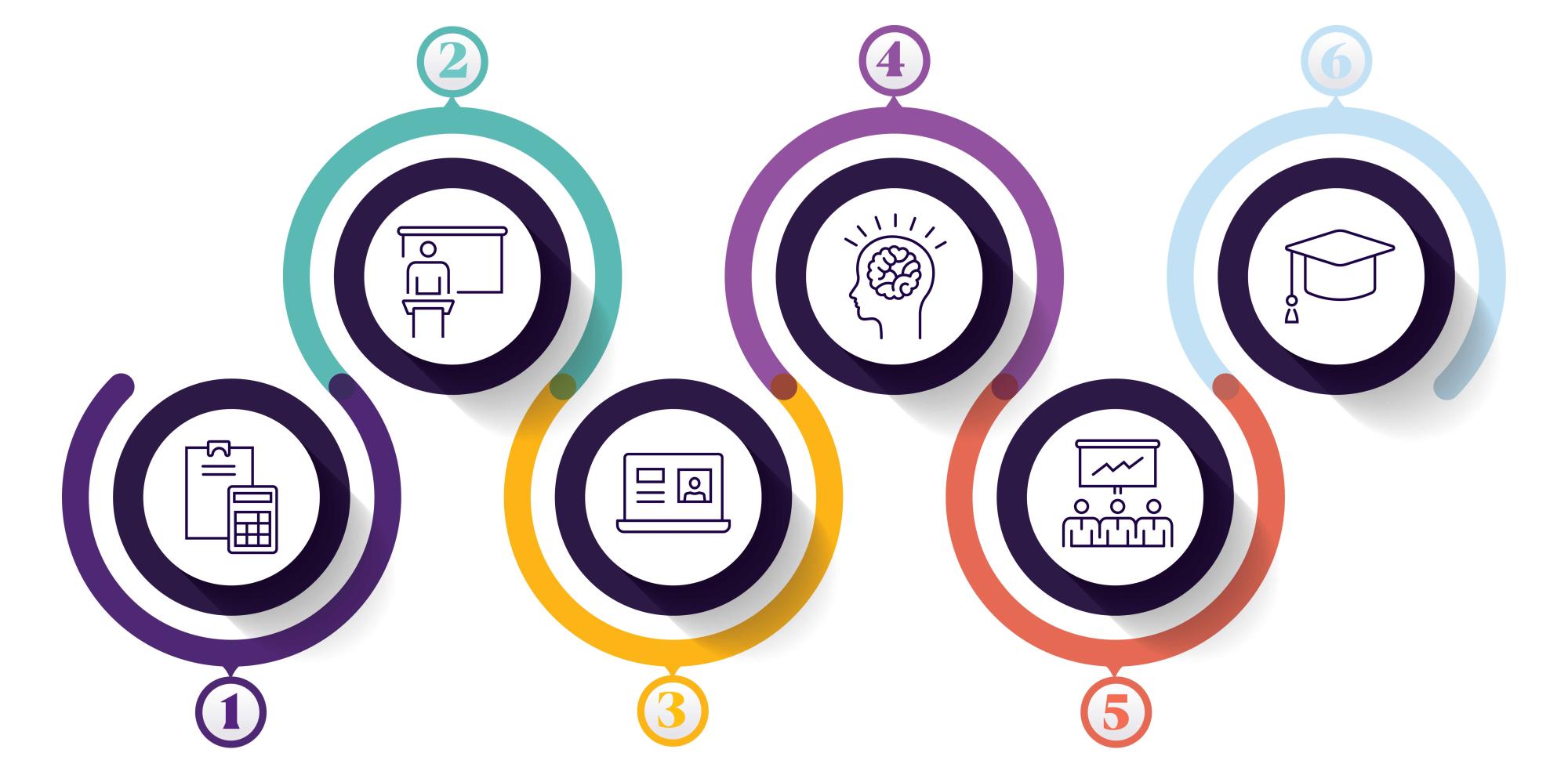 ‌
---
1. Begin your coursework.
Start building your foundation in your chosen area of teaching.
‌
---
2. Complete Level 1 field experience.
The first of four levels of field experience required. Spend 20 hours working with PreK-12 students to get a closer look at teaching as a career.
‌
---
3. Apply to teacher education.
Done with Level 1? Maintaining a 2.5 GPA? Time to declare your teaching major and apply to the UNI Teacher Education Program.  
‌
---
4. More courses! More field experience!
Teach your first lessons during 30 hours of Level 2 field experiences in local schools. Next up? Level 3, the equivalent of a full week immersion in classrooms in and out of Iowa.
‌
---
5. Student teach.
It all comes together in your final semester of 16 weeks of student teaching in Iowa, nationally or even internationally!
‌
---
6. Graduate, get your license to teach.
Get your diploma and then time for licensure! We'll assist you through the process with the Iowa Board of Educational Examiners. 
How might your path vary? 
Most students will have their first experiences in local classrooms in your freshman year. Your experience may vary. For example: 
You often have an equivalency for Level 1 as a transfer student. 
Secondary education majors may spend your first year getting started on coursework before enrolling in Level 1 in your sophomore year. 
Adding a minor like special education? In some disciplines you'll have additional time working with students in the field–all built in as part of your coursework.
Admission to UNI Teacher Education
---
Criteria
Once at UNI and taking classes, you'll soon be ready to apply for admission to the UNI Teacher Education Program. You must meet these criteria:  
Earn GPA of 2.5 (cumulative)
Complete or be in process of completing TEACHING 2017 or equivalent (Level 1 field experience).
Declare your teaching major. 
You're encouraged to submit your application to UNI Teacher Education as soon as you've met both criteria. Admission happens on a continuous basis. 
---
Procedure
Contact the CATS Office in 151 Schindler Education Center or email teachereducation@uni.edu for instructions on how to apply. 
To celebrate your commitment to teaching and your admission, you and your family will be invited to join us at the UNI Teacher Education Convocation and Celebration (schedule being re-adjusted post-COVID). 
For transfer, post-baccalaureate and master's students
Transfer students
If you are transferring from a community college or another four-year college or university:
Consider connecting with a UNI admission representative. (Optional, but encouraged.)
Access your degree audit through MyUNIverse which shows how your courses fulfill UNI's UNIFI (general education) and major requirements.
Attend a transfer orientation session, where you'll be assisted in completing the Declaration of Curriculum form and registering for classes.
Ensure final transcript is on file at the UNI Admissions Office one week prior to the spring or summer semester.
Post-baccalaureate students
If you are a post-baccalaureate student seeking teacher licensure or additional areas of endorsement, enroll either as a graduate student or an undergraduate post-baccalaureate student. This applies to undergraduate post-BA students who have never attended UNI or are former students wanting to enroll as a post-baccalaureate student. In addition: 
Request a record analyst in the Office of the Registrar complete a transcript evaluation to determine a licensure program that will lead to recommendation for the license and/or endorsement desired.
Transfer AND post-baccalaureate students:
If you are a transfer student OR a post-baccalaureate student ready to apply for admission to teacher education: 
If your cumulative GPA at graduation was below 2.50, you must earn a 2.50 cumulative GPA in at least eight semester hours of coursework at UNI before you can enter the program and enroll in Level II courses.
Courses which satisfy the major/minor and the professional education sequence taken at other institutions are used to compute eligibility for admission to the program and for student teaching. 
MA students seeking teaching license
If you are seeking a teaching license while completing a master of arts (MA), contact the department that offers the major that normally leads to licensure in the areas selected. You can direct any questions on starting this process to teachereducation@uni.edu.
A Foundation for Teaching
Professional Education Sequence
All UNI Teacher Education students complete a professional educational sequence that gives you the theory and foundational knowledge you need to teach. It also includes 14 required credits of field experience, which gives you rich opportunities to apply your learning toward working with PreK-12 grade students in our partner schools.
Add your major and minor coursework and additional field experience, and you'll have the rounded education you need for becoming a professional educator.  
Quick Links to Student Resources